Amisoft™ the hair and skin-friendly surfactant
Make your formulations milder and moisturizing with an amino acid-derived surfactant...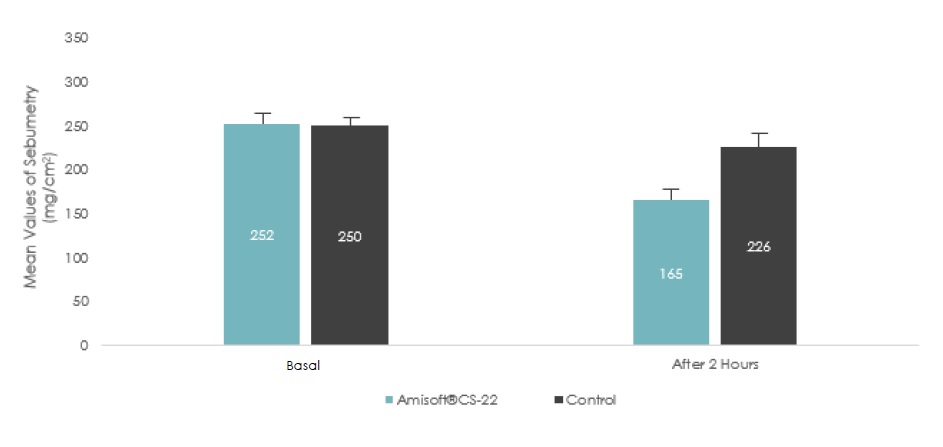 Amisoft™ CS-22 reduces the scalp oiliness by 25% compared to harsh surfactant
Regular use of harsh surfactants removes more than the excessive sebum from the skin, in oily prone scalp this triggers an overproduction of sebum.
Amisoft™ CS-22 is proved to be more efficient and mild, reducing by 25% the sebum content after 2 hours in comparison with the initial condition and control*.
Control: SLES (10.0% A.I.) + CAPB (1.6% A.I.)
Amisoft™ CS-22: Amisoft™ CS-22 (10% A.I.) + CAPB (3.0% A.I.) + Water (q.s.p. 100%) pH 6.0
*Full test conditions available on demand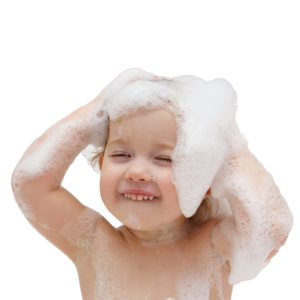 Clear Derma cleansing Shampoo
For efficient & mild cleansing, reduces the scalp oiliness without damaging the skin barrier (ABR-HW-006-19)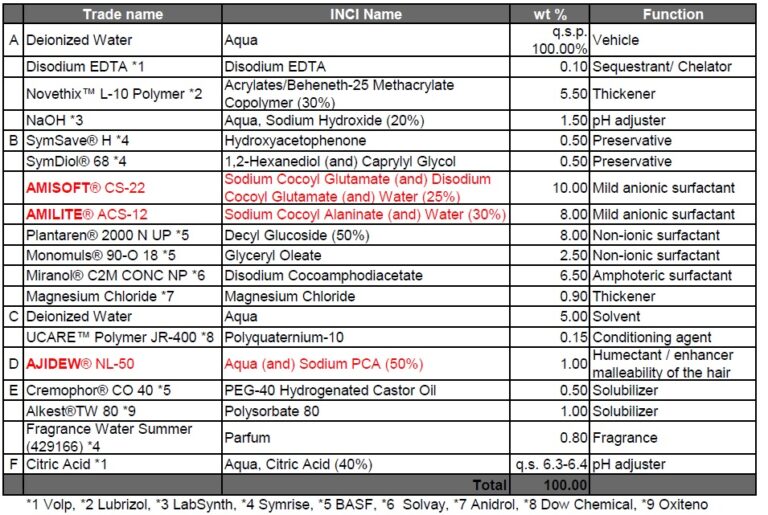 Procedure:
1. In the main beaker, add the Deionized Water and the Disodium EDTA. Homogenize until complete dissolution.
Then add the Novethix ™ L-10 Polymer and neutralize it with the NaOH solution (20%).
2. In another beaker, add the ingredients of Phase B and heat up to 80 ° C. Homogenize until obtaining a
homogeneous phase. Add Phase B to Phase A.
3. Add to the main beaker ingredients of Phase C, previously homogenized, and then perform new
homogenization
4. Add Phase D to the main beaker and homogenize.
5. Add to the main beaker, phase E previously homogenized and then perform new homogenization until complete
incorporation.
6. Correct the pH with Phase F.
PHYSICAL PROPERTIES and STABILITY>
Appearance: Viscous liquid, clear, colorless to slightly yelowish
pH: 6.3-6.4 Stability: 5°C, 25°C and 45°C for 3 months; 50°C for 1 month
AMISOFT™ CS-22 (INCI: sodium cocoyl glutamate, disodium cocoyl glutamate)
is produced from plant-derived L-Glutamic acid and fatty acids. 
has good cleansing and foaming properties and leaves skin and hair moisturized. 
is environmentally friendly and readily biodegradable, Cosmos/Natrue® certified.
is ideal in natural, sulfate-free formulations (optimally between pH 5 and 7) 
is also an effective additive to conventional surfactants to improve the formulation's mildness.
AMISOFT™ CS-22 has a very high purity, making it ideal for salt-sensitive projects.