Mont Saint Guibert, April 2022 – CAE (INCI name : PCA Ethyl Cocoyl Arginate) is a cationic surfactant derived  from L-Arginine, DL Pyrrolidone Carboxylate and fatty acids. CAE is an interesting preservative for natural cosmetic applications because it remains biodegradable.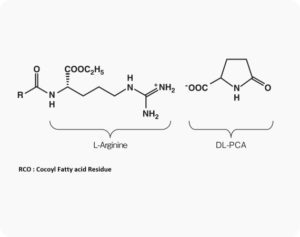 Benefits:
Mild to skin and hair
Biodegradable
Anti-static agent

Hair conditioning

ISO16128 NOI = 100%
Other ordinary cationic detergents show poor biodegradability, whereas CAE is largely biodegradable.
Test method: Biodegradability was evaluated in compliance with Japanese Chemical Substances Control Law. CAE was tested at a concentration of 100 ppm and the extent of decomposition was assayed after 14 days.
for conscious beauty and natural preservation
Due to its naturality, CAE has been rewarded by the EcoCert® and Natrue® certifications*.